Given the finite nature of water as a resource, our industry has an important role to play in its stewardship. How mines manage their water use is a significant point of focus for the sector, especially for Canada's oil sands operators.
Like many other industrial processes, the oil sands mining process requires water. However, while many other types of mines in Canada, like copper, nickel, gold, iron ore, and diamond mines, are allowed to release water (effluent) to an aquatic environment provided that it meets stringent regulatory requirements, there are no such regulations for oil sands mines. Instead, these mines have had to retain most of the water used in their processes, and significant amounts of accumulated precipitation, since the mines began operating.
Safe and Effective Release
Safe and effective release of treated water from oil sands mines is a crucial component to enable the reclamation of these mines, including tailings facilities. Dewatering is necessary to be able to reclaim most tailings facilities at oil sands mines, but that water can only be removed if it can be treated for safe release to the environment.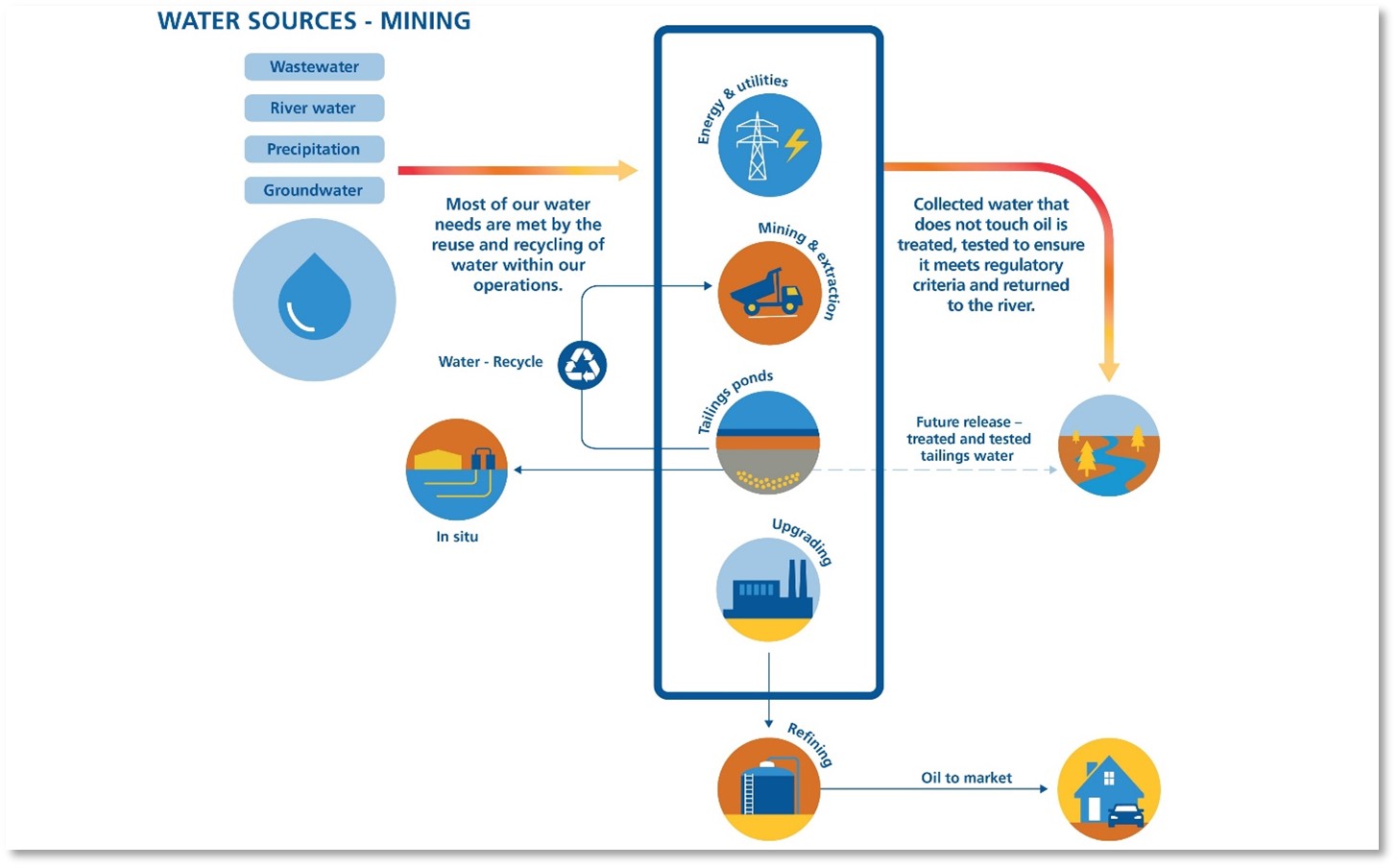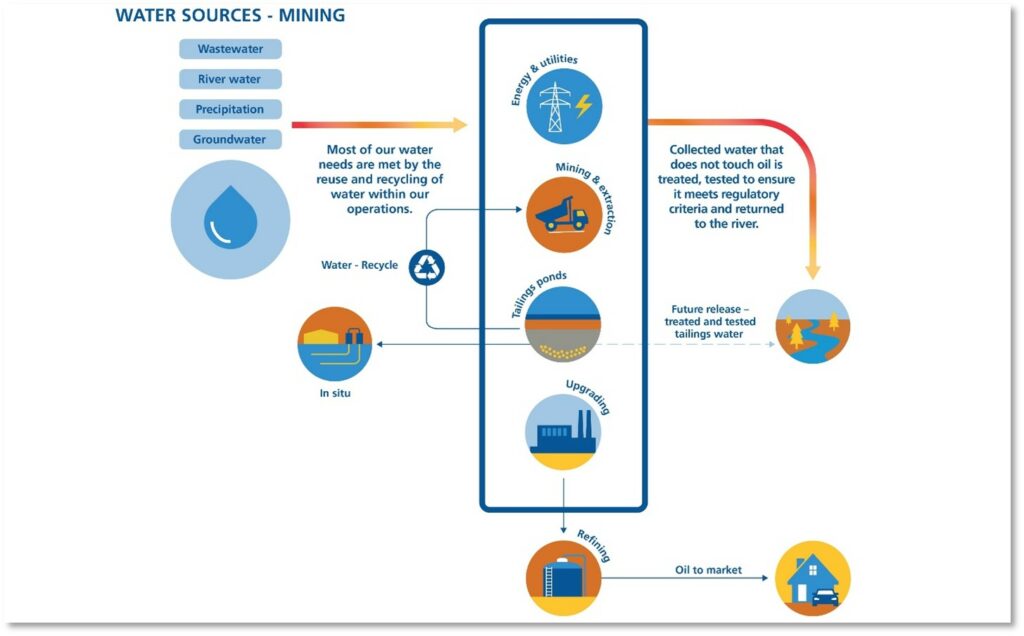 Reducing Water Storage
Without the regulatory ability to safely release treated water from oil sands mines into the aquatic environment, operators are constantly challenged to manage ever increasing volumes of water on site and achieve mine closure outcomes as specified in tailings management and reclamation plans.
The safe release of treated water into the Athabasca River will:
Reduce water storage requirements
Minimize further land disturbances associated with water storage
Enable progressive reclamation and final reclamation at closure
Oil sands deposits contain saline (salty) water that is stored in tailings facilities. The longer that water is stored and recycled for use to recover bitumen, the higher the salinity becomes, making the water harder to treat for release to the environment. Being able to release treated water sooner will help resolve the treatment issues caused by increasing salinity.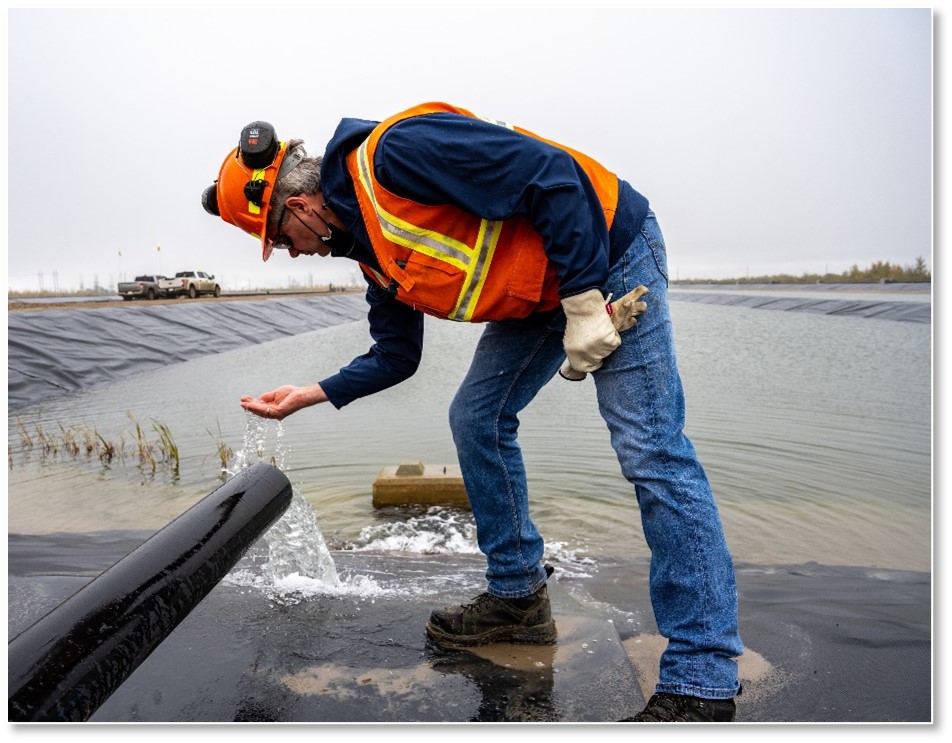 Proven Treatment Technologies
Water at oil sands mines contains a number of different constituents and would need to be treated to reduce their concentrations to levels that are safe for release to the environment. These constituents include suspended solid material (sand, silt, and clay), and a range of metals. These constituents are common to process water used in other types of mining and many other industrial activities, and there are a wide range of proven technologies already in use in Canada and globally to treat these contaminants to safe levels.
Water at oil sands mines also contains constituents that are unique to oil sands mines; these are derived from the bitumen being mined, and include organic compounds such as naphthenic acids. Oil sands operators have the demonstrated processes, including through innovative technologies developed via Canada's Oil Sands Innovation Alliance and those by leading producers like Suncor and Canadian Natural, to treat these constituents to levels that are safe for release to the environment. There continues to be significant investment in applying, adapting and testing the effectiveness of these treatment processes, as well as new technologies, on oil sands mine water. After decades of work in this area trying different methods with constant improvement as the goal, industry is confident that water can be treated and safely released to the environment once regulations are established.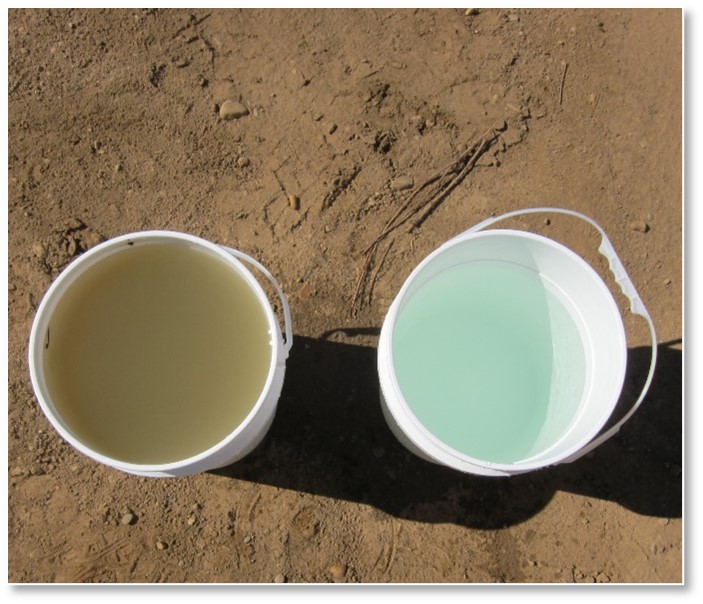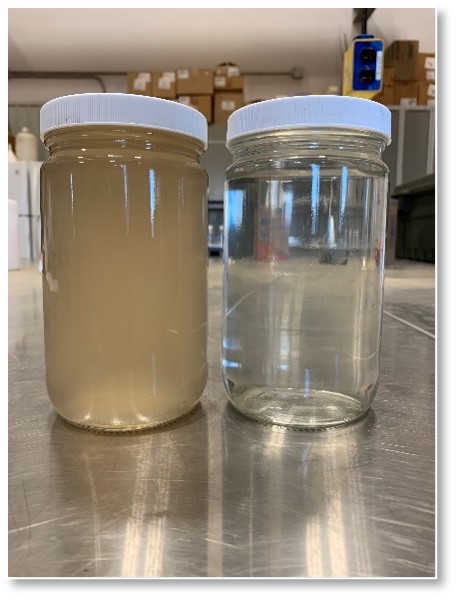 Beyond focusing on the science and technology needed to safely release treated water, the sector is also working with Indigenous partners and local communities to understand their concerns, ensure awareness of our work and engage on matters important to all.
Government Regulations
The Canadian and Alberta governments have committed to develop a regulatory framework that will enable the safe release of treated water from oil sands mines. Once this is defined, industry operators are expected to select the best treatment options for oil sands mine water at their sites. Water to be released will be treated as needed to ensure it meets or exceeds all regulatory requirements.
The objective of the federal and provincial regulatory framework will be to ensure that water can be safely released from oil sands mines, ensuring the protection of the environment. With effective regulations in place, more detailed planning for the treatment of mine water and reclamation of oil sands mines can be progressed.