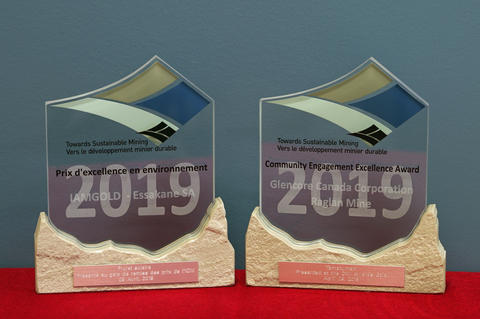 On April 29, MAC awarded the Tamatumani Program at Glencore's Raglan Mine and IAMGOLD's Essakane Project in Burkina Faso with the 2019 Towards Sustainable Mining® (TSM) Excellence Awards for their innovative sustainability projects. The companies were recognized with the awards yesterday at the CIM Awards Gala in Montreal.
News Release: MAC's 2019 TSM Excellence Award Winners Celebrate Extraordinary Environmental and Community Engagement Initiatives in Canada's Mining Sector
TSM Community Engagement Excellence Award- 2019 Winner and Finalists
2019 Winner-Raglan Mine's Tamatumani Program: Empowering Inuit Communities and Inspiring the Next Generation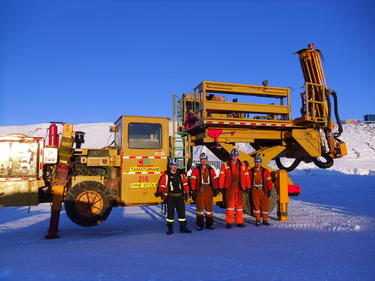 Situated in the Nunavik territory of Northern Quebec, Glencore Canada's Raglan Mine has made it a priority to attract and retain as many local Inuit employees as possible. To achieve this goal, Raglan Mine launched its Tamatumani program in 2008, meaning "second start" in Inuktitut, which has helped the company increase Inuit employees by 110% since its inception. In fact, as of December 31st, 2018, 22% of the Raglan Mine's workers were Nunavimmiut (Inuits from Nunavik) and the number has risen from 55 in 1998 to 235 in 2018, an increase exceeding 327%.
Given the fact that in the next 10 years, Canada's mining industry will need to hire approximately 100,000 new workers, increasing participation and focusing on retention is more important than ever. Raglan Mine's Tamatumani program is focused on doing just that, specifically through promoting skills development among the Nunavimmiut labour force specifically.
Built in collaboration with community partners, the program encourages career development of Nunavimmiut employees, provides technical training and basic skills training, and supports the integration of new Inuit staff. As part of the initiative, the company created the Inuit Employment Centre, which manages the entire staffing process, maintains a bank of candidates interested in working at the mine and visits Nunavik communities to ensure residents are aware of available positions.
While the Tamatumani program was designed to meet the specific needs of Glencore's Raglan Mine, the core skills training that has been developed is seen as innovative and is the standard bearer for other companies operating in Canada's North.
Finalist-New Gold's Cerro San Pedro Integrated Mine Closure Program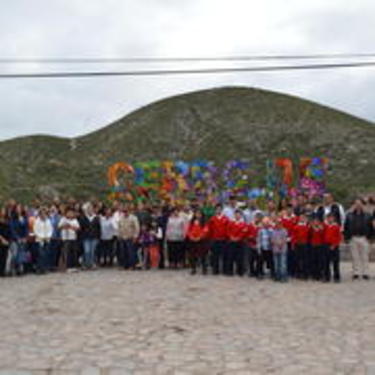 For the 4,000 residents living in the municipality of Cerro de San Pedro in central Mexico, New Gold's gold mine has for years served as the economic bedrock of the community. For that reason, closure plans were an extremely important aspect of the mining process in order to ensure that mine workers and the surrounding community would be able to successfully transition to a post-mining economy.
The Cerro San Pedro Integrated Mine Closure Program was particularly important because, as New Gold's first closure of a mine, it provided an opportunity to show New Gold's other communities of interest (COI), in Mexico and globally, that the company's values do not end when mining ends and would be practiced through closure processes and beyond.
Transparency and open, two-way dialogue with COI were particularly important to the process because of a number of groups within the community that had historically expressed opposition to the mine. For this reason, while officially initiated in 2016, New Gold's engagement with the community on components of the closure program started years earlier in late 2013 in efforts to empower the COI to be an integral part of the planning process in diversifying the community's economy.
One of the most impressive aspects of this program has involved the engagement of local women. As of December 2018, the community run Desarrollo Cerro San Pedro Entrepreneurial Development program, has met with 151 clients, of which 46% are women. Partnerships have also been established with five local organizations to provide skills training and certification programs to re-train mine workers and teach small business skills, an integral component of positioning mine workers for success in whatever path lies in their future.
The results speak for themselves as through this initiative and in collaboration with Sustainable Economic Futures Canada, numerous new and expanded businesses have completed work plans and partnerships with local organizations focused on skills training and certification programs to re-train mine workers and teach small business skills have developed. Cerro de San Pedro is now well on its way to establishing itself as a mecca for cultural and adventure tourism, and this transition has been made possible in large part thanks to the heightened COI engagement and New Gold's leadership in prioritizing the continued success of the community, post mining closure and beyond.
Finalist-Dominion Diamond and its India-Based CSR Project focused on Clean Water, Sanitation and Sustainable Farming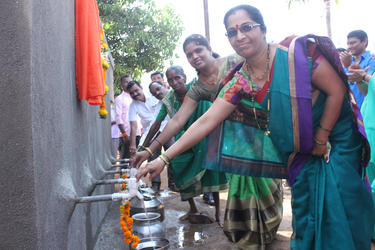 Since 2015, Dominion Diamond Mines has worked in partnership with Dishantar, an NGO based in India, to serve remote communities in the Ratnagiri district of Maharashtra. Due in part to Dominion's sorting operations in Mumbai, the company was eager to participate in initiatives that would empower underprivileged communities.
Through numerous CSR projects focused on clean water, sanitation and sustainable farming, approximately 2,000 families have benefitted from Dominion and Dishantar's collaboration. In efforts to focus on what is most important to the community, the programs include local leadership and oversight, resulting in a true partnership between the beneficiaries, Dominion, and Dishantar. Dominion has been actively involved, meeting with Dishantar multiple times a year, including twice-yearly project visits. The on-the-ground site visits allow Dominion employees to meet those who are positively impacted by the programs.
One of the most compelling aspects of this joint CSR project has been the focus on gender equalization. Specifically, training in farming practices for women has provided them the ability to financially contribute to their households, often for the first time, by becoming farmers. In fact, this project has marked the first time in the history of the district that a cadre of women farmers is working professionally in agriculture, a significant step in what has historically been a region focused on traditional gender roles. It is often said that through greater female empowerment, broader benefits for the economy, politics and society as a whole will result. Through the initiatives in this project, particularly those focused on promoting employment opportunities for women, the future looks bright for the Ratnagiri district.
Finalist: Suncor's Culturally Significant Wetland Plants Study: early engagement with Indigenous communities delivers positive results for reclamation planning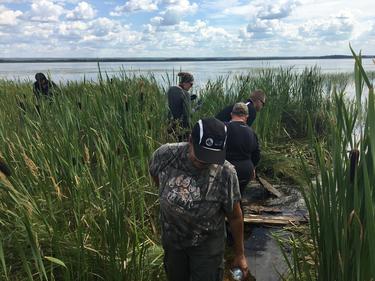 Suncor, Alberta Innovates and local Indigenous communities have been working together since 2014 to identify culturally significant plants and learn how to grow and establish them on reclaimed lands in the Wood Buffalo region of northern Alberta. This collaboration focuses on integrating values and traditional knowledge from Elders and members of the surrounding communities with western science to guide and enhance reclamation activities within Suncor's operations.
Elders and Indigenous community members were invited to help design the Culturally Significant Wetland Plants Study and its objectives by attending meetings, sharing knowledge, spending time together on the land, and visiting a greenhouse. Cooperation between Suncor and the neighbouring Cree, Dene and Métis communities has helped strengthen their relationships while allowing for inclusion of different perspectives on ecological reclamation considerations. The study will run until 2020 and learnings will be shared with all participants so they can grow and establish these plants in their own communities.
Suncor is demonstrating the value of early, consistent and responsible engagement with local communities. The Culturally Significant Wetland Plants Study is resulting in more meaningful and collaborative insights that guide reclamation planning and closure outcomes, while enhancing mutual trust and respect.
TSM Environmental Excellence Award- 2019 Winner and Finalists
2019 Winner- IAMGOLD's Essakane Project: Innovative Renewable Solar Energy System in Burkina Faso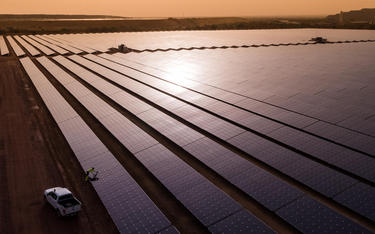 Given the energy required to source the minerals and metals essential to the products we use every day, Canada's mining industry has a role to play in focusing efforts on climate change and greenhouse gas (GHG) emissions. Sustainability and mining are not mutually exclusive and there is extensive work currently being completed in the sector to determine how innovation and low carbon technology can go hand-in-hand. While it is easy to recognize opportunities to help the planet, it can be difficult to effectively implement them in practice. The Essakane Solar, a project led by IAMGOLD, highlights how miners can form innovative working relationships with like-minded partners to help transform ideas into action.
The fight against climate change ultimately requires the mining industry to prioritize responsible energy use, improve efficiencies and explore new options for fuel switching and renewables where feasible. That's why IAMGOLD has sought to strengthen the industry's response at both the global-level and for its local stakeholders by effectively reducing its carbon footprint. To best support the sector's transition to lower-carbon technology, IAMGOLD committed to developing an innovative renewable solar energy system at the mine through its Essakane Solar Project in Burkina Faso.
Due to its isolated location, IAMGOLD's Essakane Mine in Burkina Faso is off-grid and has traditionally relied entirely on a thermal power plant using heavy oil. IAMGOLD decided to put forward an aggressive sustainability agenda by partnering with project sponsor Total Eren, a global renewable energy independent power producer, and AEMP, a developer and independent power producer dedicated to the development of renewable and hybrid projects for industrial sectors in Africa, to add a solar capacity to Essakane's existing power system. This hybrid solution combines PV with diesel generation to provide a reliable off-grid power source that will supply Essakane with competitive and carbon-free electricity.
Made of 130,000 photovoltaic panels, the Essakane Solar Project currently stands as the world's largest hybrid solar/thermal plant and is now one of the largest solar facilities in sub-Saharan Africa. The solar project is ensuring that the IAMGOLD can lower costs, improve safety, reliability and improve its sustainability practices over the long-term. Not only has this resulted in a contribution in the fight against climate change, but it has had a significant positive impact on the local community. The project has created 40 permanent new jobs and has had an impact on the local supply chain. It was estimated that the plant will offset approximately 18,500 tonnes of GHG emissions annually from the existing heavy fuel oil plant while saving an estimated 52 million litres of fuel over a 15-year purchase power agreement. However, since commission, for the period ending December 31, 2018, the plant has actually exceeded expectations. Essakane saved approximately 3.9 million litres of fuel and reduced carbon dioxide emissions by approximately 12,000 tonnes over seven months of service.
In ensuring a stable and reliable energy supply, the Essakane Solar project has reduced the mine's carbon footprint, helped the mine and its local stakeholders adapt to climate change, and involved local communities throughout the project development process to ensure the benefits of Essakane Solar are shared.
Finalist: Agnico Eagle's Pinos Altos Reforestation Project: Planting the Seeds for Successful Mine Closure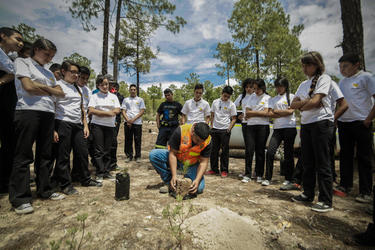 Reclamation is a significant aspect of mining, and managing mine closure is an integral part of the process. The aim of reclamation focuses on returning mined lands to their original state, and the innovative work in this process is illustrated in Agnico Eagle's Pinos Altos mine.
Located in Mexico, the Pinos Altos mine is putting an emphasis on its reclamation efforts through its reforestation program, focused on re-establishing a healthy forest in the mine's surrounding areas that were affected by past activities. Specifically, the program contributes to protecting biodiversity, improving soil conservation, and, perhaps most importantly, providing an important environmental education for schools in the local vicinity.
The program, which started with a small-scale nursery in 2009, has had a significant impact in rehabilitating forested areas around the Pinos Altos mine, and now produces an impressive 140,000 seedlings per year. In Mexico, a plant nursery is a condition of the environmental permit, but the work being done at Pinos Altos mine goes above and beyond permit requirements, specifically through the innovative work being done in its reforestation program focused on soil conservation, biodiversity protection and environmental education.
It is integral that local community members be an important part of the reclamation process given it is their space and will continue to be so after mine closure. The significance of the local ownership of the process is recognized through the reforestation program. Community members, particularly children from local schools, have had a role in planting the seedlings produced in the nursery. These children are learning the planting techniques and the value of biodiversity and preservation of their natural environment, and educational initiatives connected to the program have ensured that there is a high level of awareness among visiting school children and community members on the native plants and wildlife that live in their surrounding area.
The Pinos Altos reforestation project shows how biodiversity protection, education and community participation can together play a role in ensuring reclamation is being completed successfully and responsibly. With close to 3,000 children having participated in the environmental education and revegetation activities since the program's inception, it is clear that these conservation efforts will continue through the next generation in the years to come.
Finalist: Syncrude's Birch River Conservation Initiative: Establishing the World's Largest Protected Boreal Forest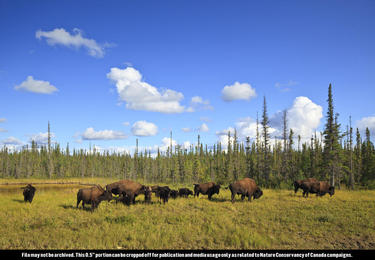 Photo courtsey of the NCC
Biodiversity conservation is a critically important aspect of the mining process and an integral component of ensuring operations are being completed in a responsible and sustainable way. Syncrude Canada Ltd., through its collaboration with Tallcree First Nation, the Alberta and federal governments and the Nature Conservancy of Canada, put this commitment into action through its work on the new Birch River Wildland Provincial Park in Northeastern Alberta, now part of the world's largest contiguous protected land in the boreal forest.
This groundbreaking initiative came as a result of years of effort and discussion involving the multiple participating stakeholders. Announced in spring 2018, the Birch River Conservation Initiative is diverse in flora and fauna and is comprised of upland forests and other wetlands and grasslands. Perhaps most importantly, the area is home to a number of species listed under the Species at Risk Act, including the Peregrine Falcon, wood bison and woodland caribou.
Given the fact that the Birch River Conservation Initiative is part of the traditional lands of the five reserves that comprise the Tallcree First Nation, their input was a critical aspect in ensuring that all voices with an interest in moving the program forward were being heard. Their participation, alongside the other stakeholder groups, is a testament to how parties with diverse interests can come together to collaborate on such a significant project.
Preservation is an important aspect of the mining process, and with this effort conserving more than 6.7 million hectares of boreal forest—more than twice the size of Vancouver Island and 10 times the size of the GTA—there is no doubt the Birch River Conservation Initiative will not only provide long lasting positive impacts, but has also set the standard on what is possible for future multi-stakeholder collaborative industry projects.
Finalist: Dominion Diamond's Long Lake Containment Facility Pilot Study: Ensuring Traditional Knowledge's Role in Closure Objectives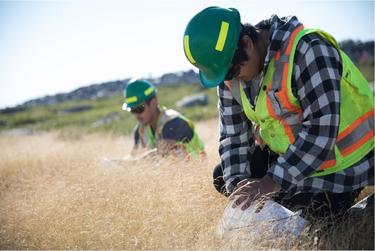 Situated in Canada's Arctic, Dominion Diamond's Ekati mine is located in a remote and harsh environment that creates particularly difficult conditions when creating plans for closure and reclamation. Due to its unique geography, Dominion Diamond had to think outside the box to ensure that its containment area for processed kimberlite (PK) was physically stable and safe for wildlife and vegetation, which resulted in the creation of its Long Lake Containment Facility (LLCF) Pilot Study.
Commencing in 2012, the LLCF Pilot Study focuses on outlining a path towards sustained environmental protection through a combination of scientific research in collaboration with the influence of Traditional Knowledge (TK) from surrounding Indigenous communities to meet LLCF closure objectives. The study is the first of its kind in Canada's North, and the information and innovative methods produced will undoubtedly be useful in providing much needed information for similar Arctic operations across the globe.
One of the most noteworthy aspects of the LLCF Pilot Study is its role as a resource for other similar projects taking place in the mining sector. The expansion of the pilot project and annual monitoring program have been adjusted to reflect lessons learned on a yearly basis. The outcomes of the study are presented regularly in efforts to establish what best practices could be adopted by other mining operations looking to reclaim PK. Dominion Diamond's LLCF Pilot Study, which has been heavily based on TK and partnerships with the surrounding Indigenous communities, has produced research that will set industry standards by providing reliable evidence on effective measures to attain reclamation endpoints in a short timeframe. The openness with which this information has been shared will facilitate the development of closure objectives in similar climates that are focused on the safety and preservation of both wildlife and vegetation.