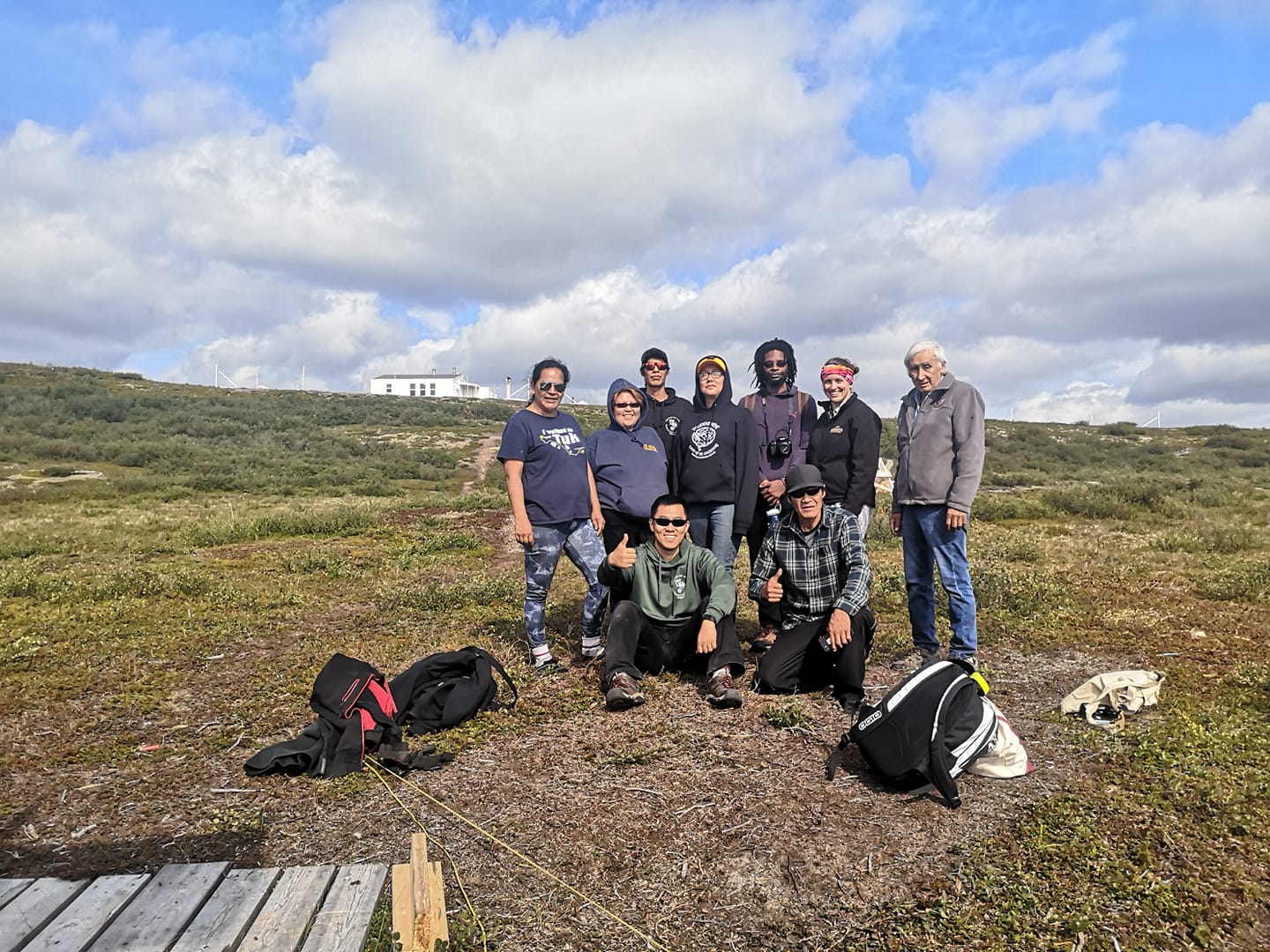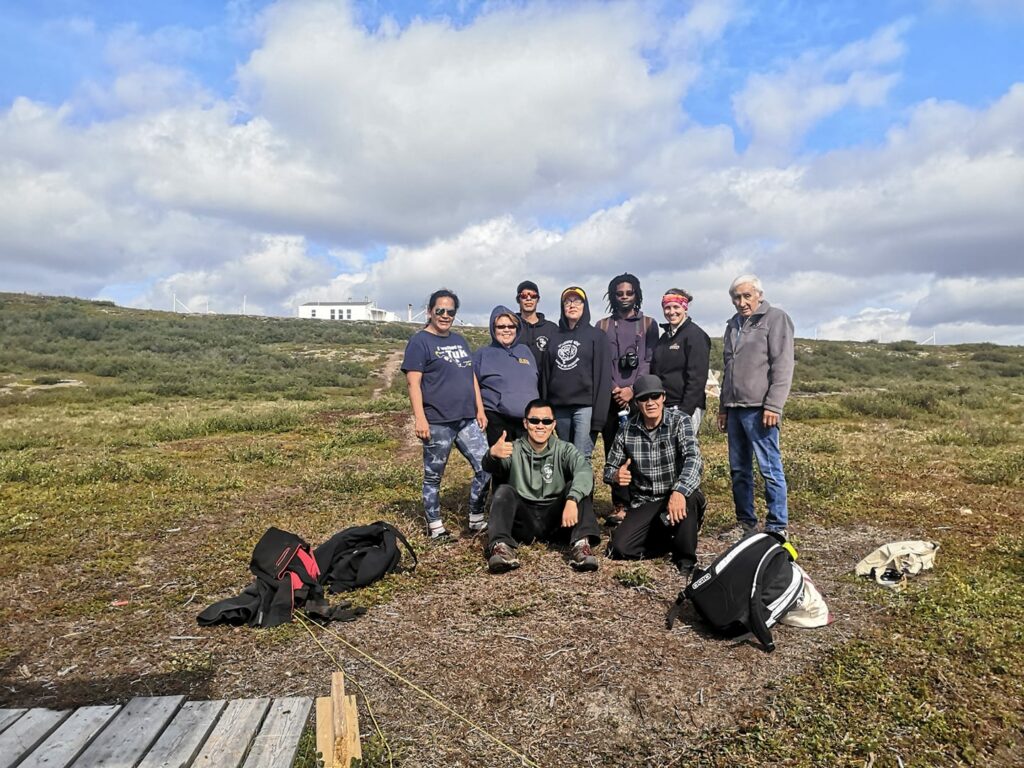 TSM Community Engagement Excellence Award
Winner – Ní Hadi Xa Initiative Supports Community Environmental Collaboration at Gahcho Kué Mine
The Ní Hadi Xa initiative, meaning "People Watch the Land Together" in the Chipewyan Dëne Sųłné language, was established in 2014 by Gahcho Kué Mine and six Indigenous communities. Together, they conduct environmental and traditional knowledge monitoring at the diamond mine located in the Northwest Territories. Gahcho Kué is a joint venture between De Beers Group and Mountain Province Diamonds.
Ní Hadi Xa is managed by a seven-member Governance Committee, with six of the seven members representing local Indigenous signatory communities – Deninu Kué First Nation, the North Slave Métis Alliance, the Northwest Territory Métis Nation, the Tłı̨chǫ̀ Government, the Łutsel K'e Dene First Nation, and the Yellowknives Dene First Nation. One seat on the committee is held by Gahcho Kué.
The program employs five Indigenous individuals from local communities, including those with environmental management and traditional knowledge experience. Ní Hadi Xa provides a forum for collaborative environmental monitoring and management, with all policies and monitoring programs co-designed and approved by the Governance Committee. The initiative supports in-depth discussion on mine development updates and proposals, with any environmental monitoring findings or concerns directly relayed to Gahcho Kué for incorporation into the mine's environmental management and monitoring framework.
The Governance Committee also forms several sub-committees for managing related initiatives, including traditional knowledge programs, finance, and human resources. They meet quarterly to review the implementation of the programs and to discuss and approve any additional work plans.
Ní Hadi Xa was established using learnings from other independent monitoring agencies in the region to create a new and innovative approach to environmental monitoring activities at the mine. The collaborative and cooperative nature of this initiative, prioritizing leadership by local Indigenous communities, can serve as a model for other mining projects – from pre-development to mine closure.
Both Gahcho Kué and Ní Hadi Xa staff have been invited to share this model and their experiences with other mining companies, given their success in building trust and sharing knowledge and information between the company and local communities. By providing an Indigenous-led framework for open dialogue on local environmental priorities, Gahcho Kué is raising the bar for meaningful community engagement.
Representatives of the Mining Association of Canada's Community of Interest Advisory Panel were impressed by the fact that Indigenous community representatives held most seats on the Ní Hadi Xa Governance Committee, and that this Indigenous-led committee is responsible for direction, oversight, and reporting on the initiative. The Panel representatives also appreciated the intentional approach to incorporating Indigenous traditional knowledge responsibilities for program staff.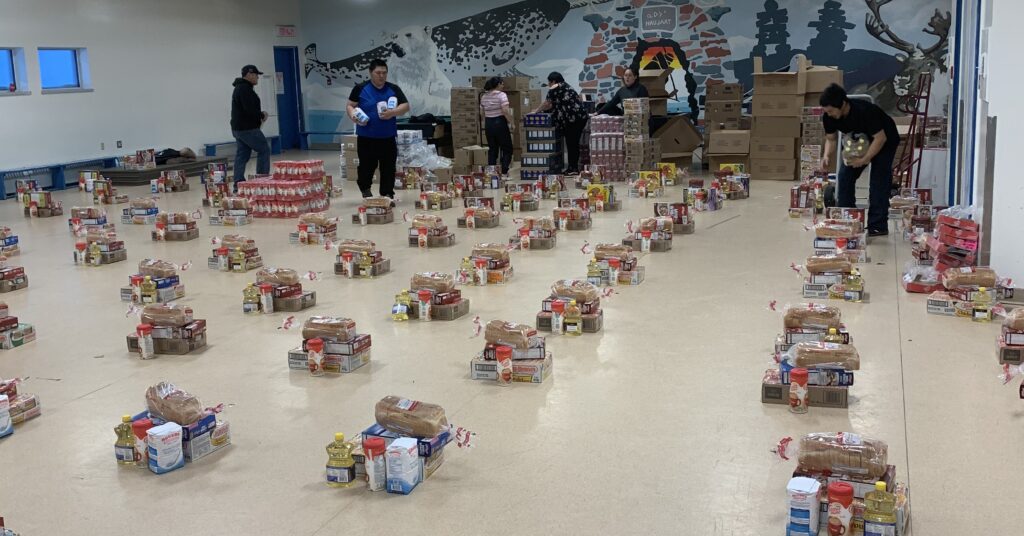 Finalist – Agnico Eagle's Good Deeds Brigade Enhancing Community Volunteerism in Nunavut
Agnico Eagle, a leading global gold mining company, has long been committed to ensuring its workforce operates in the safest way possible. In the spring of 2020, when COVID-19 first became a major risk in Canada and consistent with the actions of many Canadian miners, Agnico Eagle took the precaution of sending its entire Nunavut-based workforce home in order to reduce the risk of the virus spreading to local communities.
Recognizing the interest of its local Kivallimmiut employees in staying connected to their community during the stay-at-home period, Agnico Eagle created the Good Deeds Brigade. This initiative provided employees with the opportunity to work on community-led projects to address significant needs in the region. In addition to making a positive impact in their community while home from the mine site, all Good Deeds Brigade participants received their full salary from Agnico Eagle, supporting economic stability in the face of the pandemic.
From the outset, the Good Deeds Brigade ensured that all projects addressed needs identified by local communities of interest. Proposals and plans for support came directly from local organizations across the region of Kivalliq, including Baker Lake, Rankin Inlet, Arviat, Coral Harbour, Naujaat and Chesterfield Inlet. In total, 91 Agnico Eagle Nunavummiut employees participated in 15 community-led partnerships and supported 23 different projects in areas like mentorship, mental health, food bank assistance, childcare, and environmental stewardship – all while observing COVID-19 safety protocols.
In summer 2021, with authorization from the Nunavut Government and local health authorities, Agnico Eagle's Kivallimmiut workforce began reintegrating in the workplace. While this was the obvious time to conclude the Good Deeds Brigade initiative, the response to the program was so positive that Agnico Eagle decided to introduce a new version of the Brigade in early 2022. Employees, both Kivallimmiut and non-Kivallimmiut, at the company's Meadowbank and Meliadine operations will participate in an annual Day of Good Deeds in two Kivalliq communities, volunteering their time to support community-led projects. This new initiative is inspired by the success of similar campaigns organized by Agnico Eagle's operations in Mexico.
Representatives of the Mining Association of Canada's Community of Interest Advisory Panel were impressed by Agnico Eagle's efforts to support their employees during the global COVID-19 pandemic. Not only were employees paid to stay home to avoid possible transmission of COVID-19 to the communities, but the project also represented an innovative effort to refocus employees' attention on important needs in their communities.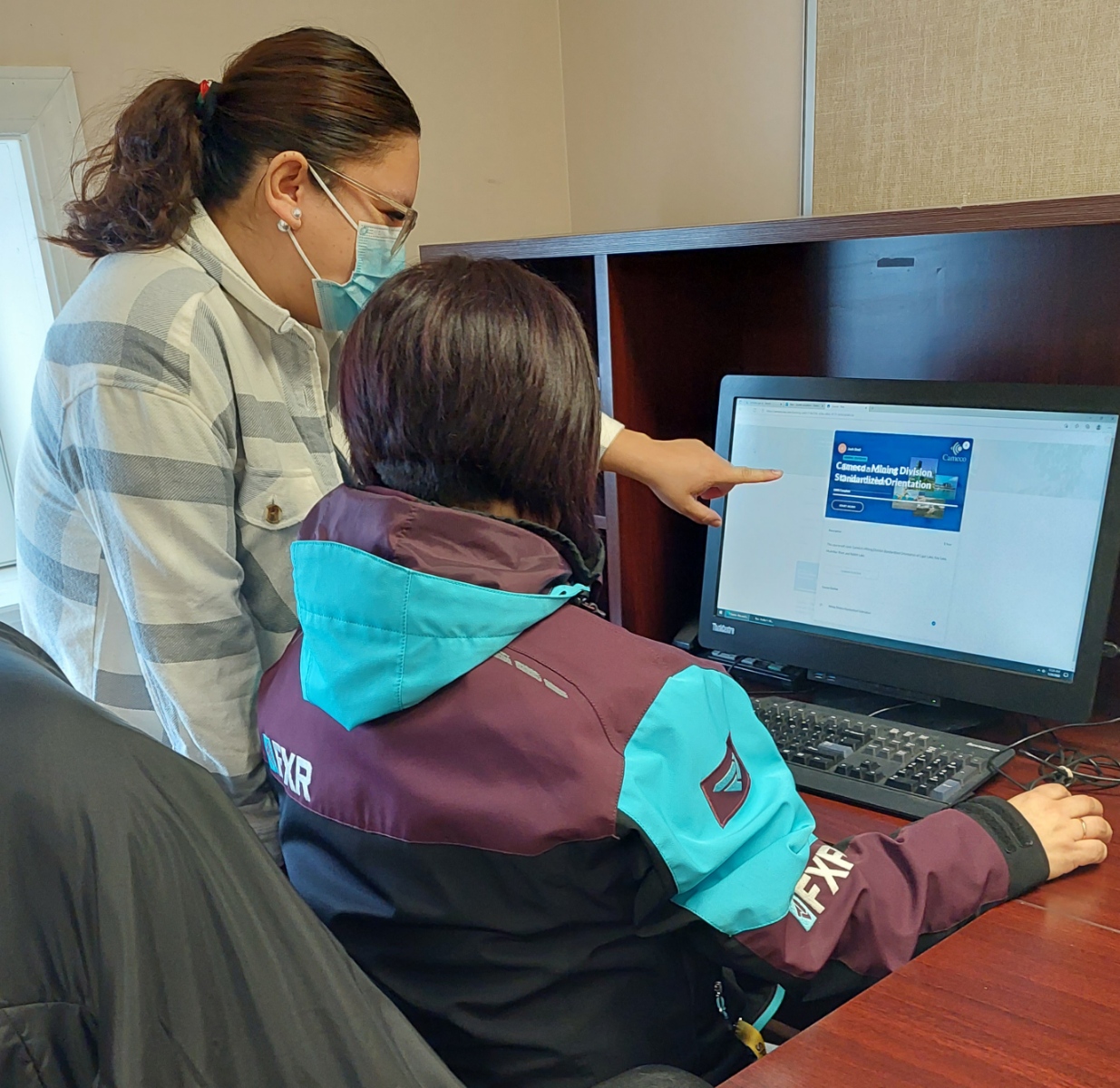 Finalist – Cameco's Indigenous Training and Upskilling for the Future in Northern Saskatchewan
Canada's mining industry currently faces a human resources challenge, with estimates that the sector will need to hire close to 80,000 new workers by 2030. It will therefore be critical that Indigenous peoples are able to meaningfully participate in the mining workforce and receive the necessary training and educational opportunities to thrive in their chosen fields.
Cameco, one of the world's leading uranium producers, has long been recognized as a leader in Indigenous employment, with 51% of the site operations workforce, including contractors, coming from northern Saskatchewan. They are addressing the need to prepare more Indigenous peoples for employment opportunities through an online Indigenous Training and Upskilling for the Future program. These 15 training courses – for which course intake exceeded initial targets – were designed to prepare northern Saskatchewan residents to apply for employment at mine sites and to enhance skills that can be applied to other employment opportunities in their local communities.
To ensure the training program was as inclusive as possible, Cameco consulted with northern stakeholders and diversity-oriented groups to prioritize the enrollment of women in the program. Learners were able to access the training when and where they were able to do so. Given this flexibility, the program is easily adaptable and has the potential to be used in other regions. Cameco plans to launch the training courses in northern Saskatchewan's remote Athabasca Basin in 2022, and a new partnership is underway with Northern Career Quest in support of this project.
In addition to its Indigenous Training and Upskilling for the Future program, Cameco's commitment to Indigenous employment is longstanding. From scholarships and internships for northern students to apprenticeships and career planning for employees, Cameco is positioning employees to succeed. The company is committed to a diverse workforce, to recruit, retain and advance Indigenous employees within the operations, and as a result, to promoting economic, social and educational opportunities in northern Saskatchewan.
Representatives of the Mining Association of Canada's Community of Interest Advisory Panel were impressed by Cameco's investment in skills development for local Indigenous communities, not only preparing them for jobs at the mine site but also equipping them with relevant skills for other job opportunities in the region.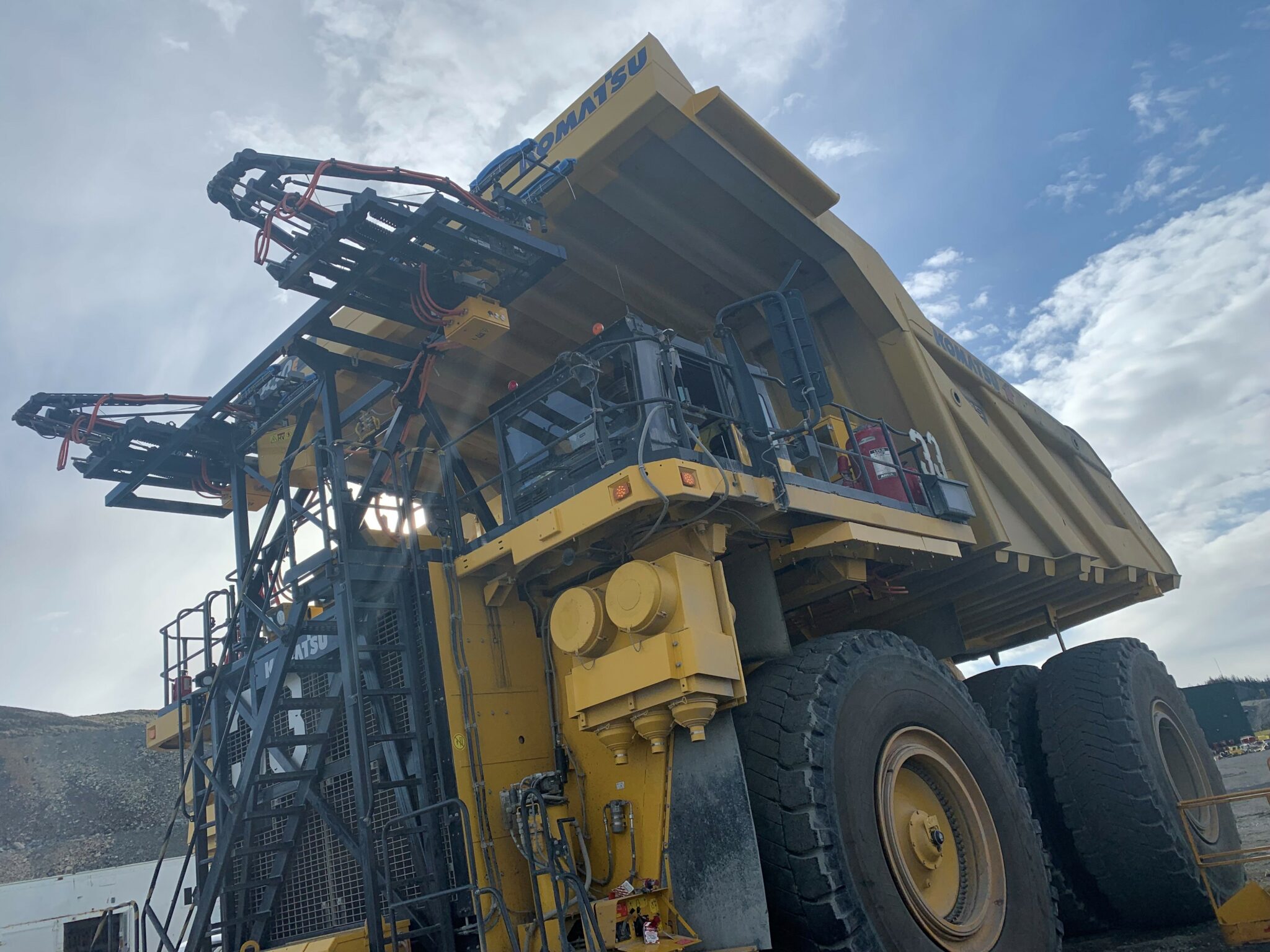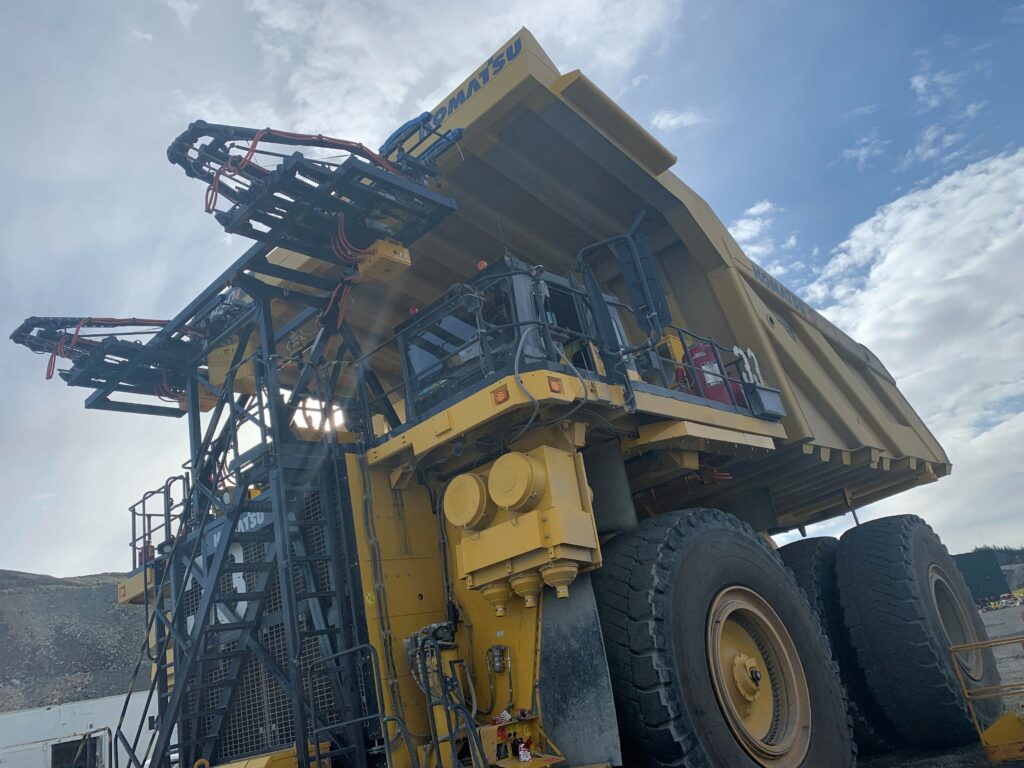 TSM Environmental Excellence Award
Winner – Copper Mountain's Electric Trolley Project a Key Step Towards Net-Zero Emissions
Canada's mining industry is working hard to produce the mined materials necessary for low-carbon technologies while innovating to reduce its own carbon footprint. Copper Mountain is leading the way in these efforts through a partnership with SMS Equipment, Komatsu, ABB, Clean BC, and B.C. Hydro.
Together, they have created a mine-site version of the overhead cables that power urban buses and trams. Instead of public transit, the trolley-assist installation at the Copper Mountain Mine will deploy haul trucks connected to a 1km overhead electric cable to transport ore uphill from the main pit of the mine to the primary crusher.
Moving heavy ore up a steep incline is a highly energy intensive process and when using diesel haul trucks, is the largest source of greenhouse gas (GHG) emissions at Copper Mountain. Each of the 11 trolley-capable haul trucks will displace approximately 400 litres of diesel and 1 tonne of carbon dioxide each hour. The new technology is anticipated to reduce the mine's carbon emissions by at least 30% when introduced over the next five years. Copper Mountain then plans to connect additional trolley sections to support ore transport from the New Ingerbelle pit to the primary crusher for an additional 10 or more years of use, reducing the mine's carbon intensity by over 50% in the next five to seven years.
Made possible through multiple partnerships, the electric trolley assist project represents a significant commitment by Copper Mountain to a cleaner future and is a major contributor to achieving the company's goal of achieving net zero carbon emissions by 2035.
Representatives of the Mining Association of Canada's Community of Interest Advisory Panel were impressed by Copper Mountain's willingness to make a significant investment in a new and innovative approach to reducing an important source of GHG emissions at the mine site. This project has the potential to serve as an initial case study to spur broader uptake of the electric trolley-assist technology within the industry.