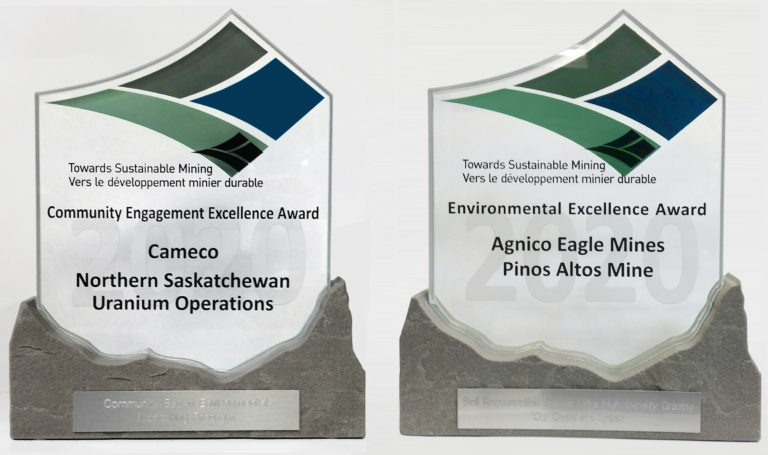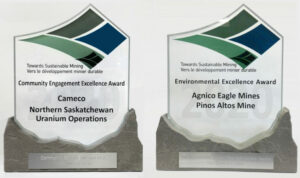 The Mining Association of Canada has awarded Agnico Eagle and Cameco, leaders in Canada's mining sector, with this year's prestigious Towards Sustainable Mining® (TSM) Excellence Awards in recognition of their innovative sustainability projects focused on community engagement and environmental stewardship.
News Release: Mining Association Recognizes Extraordinary Environmental and Community Engagement Achievements in Canada's Mining Sector
TSM Community Engagement Excellence Award- 2020 Winner and Finalists
2020 Winner-Community Based Environmental Monitoring Program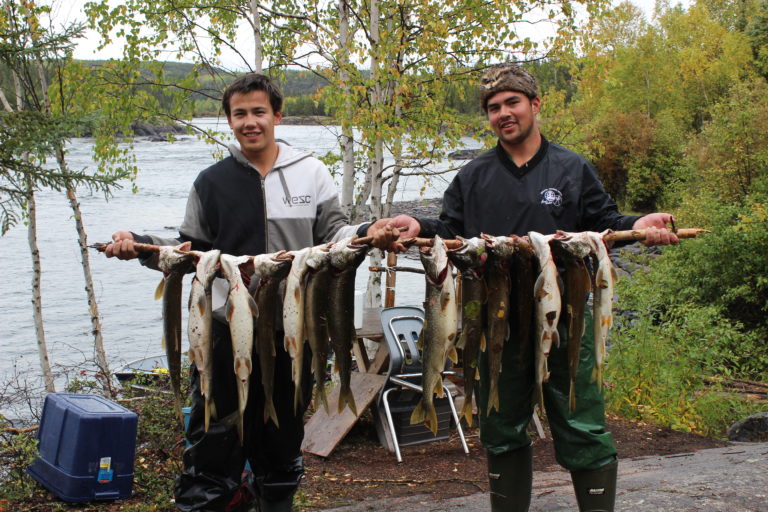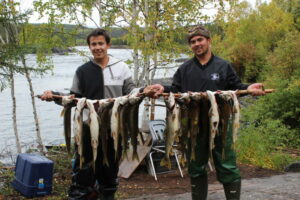 Effective collaboration between mining companies and local communities is essential to ensuring the positive relationships that can define the success of a mining operation. The Community Based Environmental Monitoring Program (CBEMP) is a component of the collaboration agreement signed between Cameco Corporation, Orano Canada Inc., four municipalities, and three First Nations in northern Saskatchewan. This program highlights the positive effect cooperative monitoring and research can have in providing confidence in how mining operations are affecting those living in the local vicinity.
The CBEMP is highly collaborative, and not only involves community members obtaining research information but also integrates local community representatives into both steering the program and participating in sample collection. By involving community members directly in CBEMP's design and implementation, communities are able to have significant input into the way information is collected, submitted and reported.
The CBEMP builds off 18 years of regional data collection through the former Athabasca Working Group (AWG) Environmental Monitoring Program. In 2018, in consultation with the AWG, the Environmental Monitoring Program evolved to become the CBEMP and the program now consists of a community specific traditional foods study completed in one community per year, rather than a region wide sampling program. This shift has provided local communities with a specific, focused study that reflects what and how much they eat, in addition to providing information on the general location of food in the area. Samples are collected in areas known to be used by traditional users of each community for a more focused and representative study which enhanced the credibility of the CBEMP's results.
Involvement of community members is and has always been one of the fundamental goals of the CBEMP. Each year, local residents take part in the sample collections which provides opportunities for employment, training and business development. Through the CBEMP, local community members can have confidence that traditionally harvested foods remain safe to eat and water remains safe to drink. The program provides peace of mind that the surrounding areas have not been affected by the active uranium mining and milling operations in the region, all while providing opportunities to local community members – a win-win.
Finalist – Glencore's Sea Ice Monitoring Project Ensures Community Safety in the Face of Changing Environmental Conditions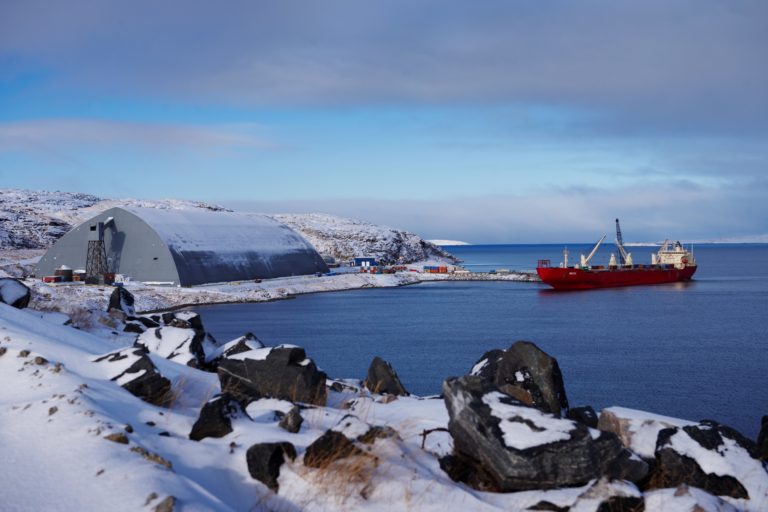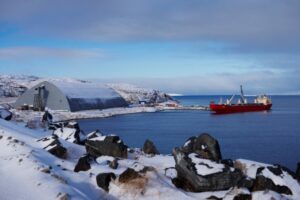 Located in Northern Quebec, Glencore's Raglan Mine is situated between the Salluit and Kangiqsujuaq communities that depend on the use of the northern environment for subsistence harvesting, which has always been a central part of Inuit culture. Climate change has had an impact on the surrounding environment, including on ice expeditions, which have become more hazardous due to the difficulty involved in measuring ice thickness.
Raglan Mine uses a comprehensive and focused approach—the SafeNickel approach—to ensure the continued health, safety, and well-being of its people. The goal is to empower people and to have them engage in prevention for themselves, their colleagues and their families. The idea was to apply this philosophy to the Ice Monitoring Project, which was designed and implemented with the support of local community members to ensure safer travel for both local Inuit and mining industry members. Raglan Mine worked with local communities and governments to address the specific needs of the mine's Inuit partners, whose ice expeditions to conduct traditional activities have been impacted by changes in the ice cover.
Through the use of cameras that transmit hourly photos by satellite and can be viewed on the Cameras at Marine Infrastructure in Nunavik (CAIMAN) website, people have the ability to check the latest photos to see if it is safe to travel. This website is used as an information tool for the surrounding community members, industry representatives and researchers and has been designed in a way that ensures data is both constantly updated and easy to digest. To maximize awareness of this resource, Raglan Mine uses social media to promote the Ice Monitoring Project, and researchers regularly participate in community events and at local school activities to widen the initiative's reach.
Perhaps most importantly, this strategic project has provided the opportunity for mentorship where Inuit youth and those experienced in fieldwork can work together to ensure a high degree of knowledge on safety and environmental stewardship is established within all generations in the local community.
Finalist – Iron Ore Company's contribution to Le Phare Resource Recycling and Sorting Centre and its positive impact as an employer in the community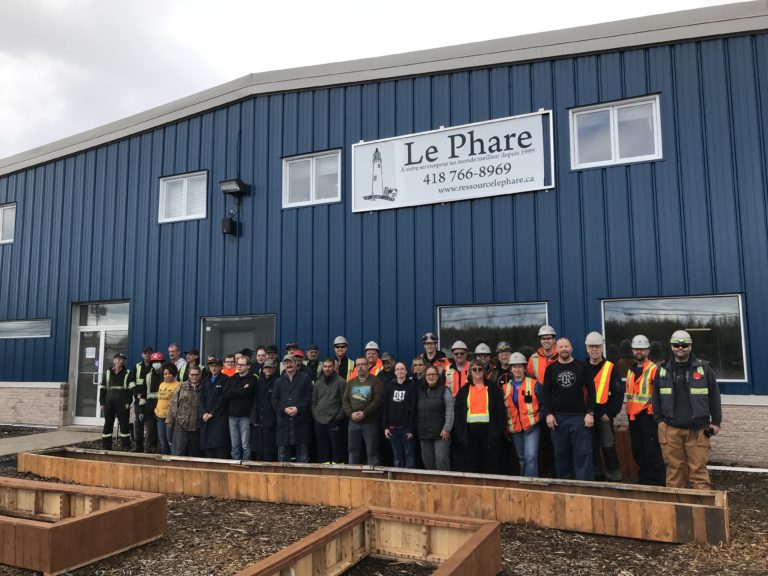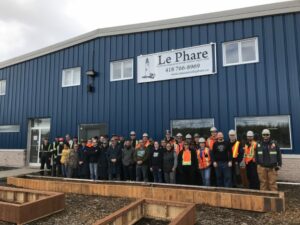 When the Iron Ore Company (IOC) provided a grant of $10,000 to Le Phare Recycling and Sorting Centre in the spring of 2019 for the purchase of a dust collector, neither organization could have expected it would be the start of a fruitful relationship that has been mutually beneficial in many ways.
Le Phare Recycling and Sorting Centre, which is responsible for all the recycling and sorting for the North Shore area in Quebec, including IOC's railway and Sept-Iles site materials, provides quality employment opportunities to those living with limitations. The centre employs over 70 individuals with various difficulties in finding employment, including mental health issues. After IOC representatives first visited the centre, the need for broader awareness concerning both the role of the sorting centre and its employees was clear. An awareness campaign was held for IOC employees and then published in the community newspaper. The campaign focused on the importance of properly sorting materials by showcasing the individuals who receive these recyclables each day. This allowed IOC's employees and the community to understand how the sorting centre operates and to realize the impacts of how poor recycling management can impact Le Phare's employees.  The media initiative "Sort. Don't recycle just anything. There are people behind this bin." highlighted the social reality of the employees of the organization.
Through its partnership with Le Phare, IOC has been able to help those in the community who have difficulty finding suitable jobs while promoting their social integration and raising awareness of the importance and difficulties of their work. IOC has also been able to establish a safer work environment for Le Phare by sharing its expertise in health and safety standards.
IOC is more than just a financial supporter of Le Phare Recycling and Sorting Centre. IOC's partnership with the organization stands out through the sharing of the company's expertise in environmental issues, effective communications and the importance of health and safety. The lasting benefit to local communities has been significant, specifically through increased awareness of the importance of sound waste management and promotion of the inclusion of people with physical or mental limitations.
TSM Environmental Excellence Award- 2020 Winner and Finalists
2020 Winner-Soil Regeneration through Ultra High-Density Grazing Highlights Synergy Between Environmental Stewardship and Innovation


In January 2019, Agnico Eagle's Pinos Altos Mine in Mexico kicked-off a new state of the art initiative focused on improving soil regeneration through its Ultra High-Density Grazing with Cattle program. This program sets a new standard for best practice in environmental protection and reclamation which can be easily adopted across the industry to improve environmental performance.
The Ultra High-Density Grazing with Cattle program mimics the effect of large herds of grazing herbivores that group together and move constantly as a result of the presence of predators, trampling the ground and plants. In this way, the program replicates nature's way of regenerating the soil in the waste rock storage facilities during closure and decommissioning. Agnico Eagle's Pinos Altos Mine was the first mine in the world to use this process to create plant cover in addition to the growth of plants native to the region. This regeneration has taken place in far less time than traditional revegetation methods. In using the existing characteristics of the area for soil regeneration, natural and sustainable restoration is possible, without having to use materials that are either synthetic of from outside the local area.
The communities surrounding Pinos Altos are benefiting from this process in multiple ways, leaving a healthy environment for future generations and creating economic opportunities to generate prosperity for those who reside in the area. The return of wildlife and fauna native to the area in such a short period of time bodes well for the future success of this program.
Not only has this project had impressive results in its first year at the mine-site level, but findings have been so encouraging that the Mining Chamber of Mexico and the Association of Mining Engineers, Metallurgists and Geologists of Mexico have shown an interest in implementing the method in different mines across the country. Thus, this new innovative program could have a positive impact in communities across Mexico, and the mining industry globally, in the years to come.
Finalist – Raglan Mine's Closure Plan Integrates Traditional Knowledge to Address Environmental Concerns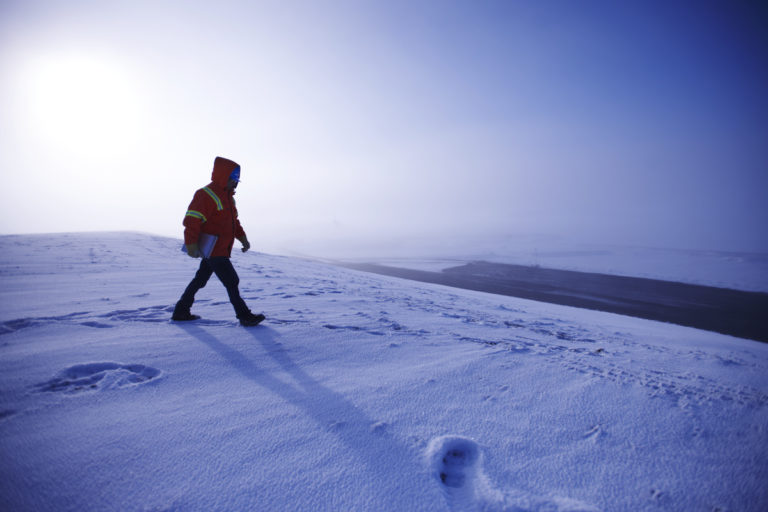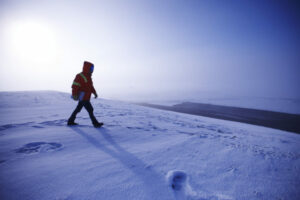 It is never too soon to plan for mine closure, which in Canada takes place before a mine even goes into production. Glencore's Raglan Mine has been operating for more than 20 years and plans to continue for at least another 20 more, but already the company has worked closely with local Inuit communities to ensure that effective closure plans are in place.
Through collaboration with its local communities of interest, Raglan Mine is leading the way in effective long-term environmental stewardship through engagement with its main Inuit partners. The Raglan Steering Committee (RSC) was created in 2005 to develop a tailings, waste rock, and water management remediation concept tailored to Raglan Mine that also takes into account the expected impacts of climate change. In 2018, the RSC formally evolved into the Closure Plan Subcommittee in order to better maintain a dialogue with the mine's Inuit partners about mine closure and ensure traditional knowledge was well integrated into planning alongside scientific considerations regarding climate change.
Raglan Mine's efforts go well beyond legal requirements in that the social impact of closure on the local population is not only being considered, but is providing the foundation for its success. With each stakeholder voice being heard, and with traditional knowledge playing a key role, the closure plans are well positioned to provide a positive framework that is accepted and understood by all affected parties. This program has not only resulted in a sense of pride and accomplishment through good community integrated mine closure practices, but its success has already initiated the creation of a university microprogram that would bring together the Inuit communities, industry practitioners and top scientific minds.
Finalist – Vale's Clean AER Project and Decommissioning of Superstack a Historic Milestone for Sustainable Mining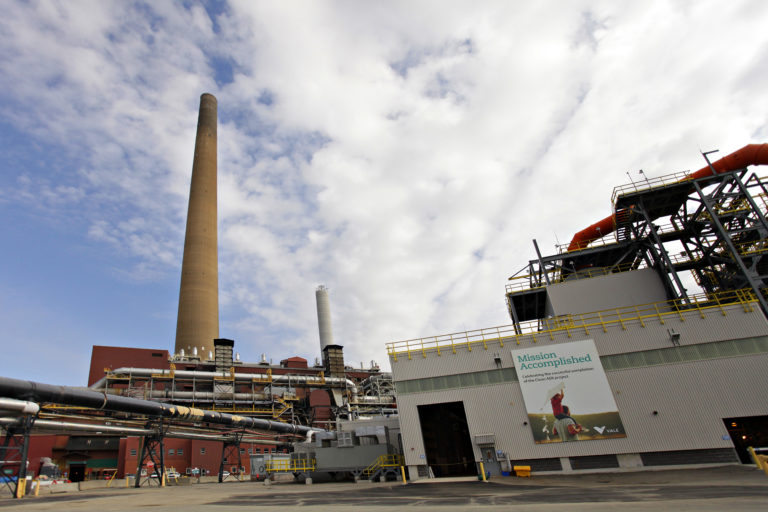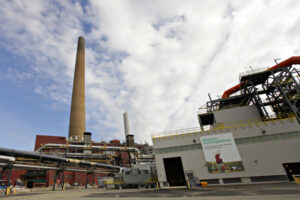 Mining provides the minerals and metals that are essential to the items Canadians rely on every day, and it is important that the process of extracting these resources be done in the most environmentally respectful way. Vale, one of the world's most significant producers of nickel, has been prioritizing this goal through its Clean AER Project at its Smelter Complex in Sudbury, Ontario.
Vale has operated in communities across Canada for over 100 years and sustainable mining practices are important to the company.  The company's $1 billion Clean AER Project, which reduced sulfur dioxide emissions by 85% and metal particulate by 40%, highlights how innovation and reducing mining's environmental footprint can go hand in hand.
As the single largest environmental investment in Sudbury's history, this complex project represents a massive contribution to long-term sustainability. The project included the construction of two new converters, a wet gas cleaning plant, a new secondary baghouse and fan building and reconstruction of the smelter converter flues. This new technology was installed while the smelter remained in operation, adding a layer of ingenuity to the innovative engineering required for its completion.
Emissions have been so significantly reduced by the Clean AER Project that Vale's iconic Superstack – originally built to disperse smelter emissions – has been decommissioned and is in the process of being replaced by two new smaller and more efficient stacks. This has generated additional local economic benefit to the community through the construction jobs necessary for the project's completion.
These emission reductions reflect how seriously companies are taking the call to mine responsibly, particularly when it comes to the environment. The Clean AER Project demonstrates the role innovation is playing in ensuring Canada's mining industry is a leader in sustainability.